Midwestern Shooters Supply
PO Box 26
191 Church Street
Lomira, WI 53048
(920) 269-4995
(866) 269-4995 - toll free
Email Us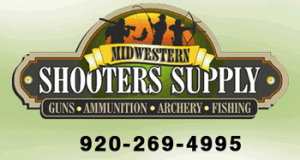 Welcome to Midwestern Shooters Supply
For more than 25 years Midwestern Shooters Supply has been the hunters' dealer of choice for all their firearms, ammunition, reloading, sports optic, and accessory needs. Staffed with experts that regularly participate in shooting competitions and club activities, Midwestern provides a friendly atmosphere and the right advice to help their customers make the correct decisions.
Staff expertise is backed by a large inventory at the lowest possible prices from major suppliers including: Beretta, Bob Allen, Bore Snake, Boyt, Browning, Bushnell, Butler Creek, Case-Gard, Carry Lite, CCI, ClayBuster, Colt, DBI Books, Federal, Glock, H&R, Johnny Stewart, Leupold, Marlin, MEC, Mossberg, MTM, Nosier, RCBS, Remington, Ruger, Simmon, Smith & Wesson, Speer, Uncle Mikes, Weaver, Weatherby, Winchester and Zeiss.
Midwestern also offers 15 years of gunsmithing experience. Their services include repairs and custom mounts. If you have a special request or your gun is in need of repair, their staff can assist you at (920)269-4995 or toll-free at 1-866-269-4995.
Make Midwestern Shooters Supply your one-stop dealer. Visit the store, located in Lomira, WI just off Highway 41 and 67 - about 50 miles north of Milwaukee and 10 miles south of Fond du Lac, or use their convenient toll free phone line to place an order for fast UPS delivery.
Hours:
Monday - Friday 9am to 8pm
Saturday 9am to 6pm
Sunday 10am to 5pm
CST

BUY ONLINE
Midwestern Shooters Supply not only offers an Ebay Store and Gun Broker we also have our own
WebStore
. In the Ebay Store you can BUY IT NOW or BID on our auctions. If you are looking for firearms you can see our online listing at Gun Broker.com. Please click on the Ebay logo to visit our Ebay Store, click on the Gun Broker logo to view some of our firearms online, or click on Our WebStore to view and purchase thousands of items!
INDOOR PISTOL RANGE
Hours:
Monday - Friday - 9am to 8pm
** Saturday - 9am to 6pm
Sunday - 10am to 5pm
CST
**Special Note:
Due to the overwhelming demand for training to meet the Wisconsin DOJ's requirement for a Concealed Carry Permit, the indoor handgun range will not be available to the public on Saturday's from 2pm to 6pm until further notice. In general, customers should call ahead to confirm that the range will be available and lanes open when they arrive.
** Rates subject to change without notice.
---