Lumpy's Kennels
W11768 Amity Rd.
Brandon, WI 53919
Email Us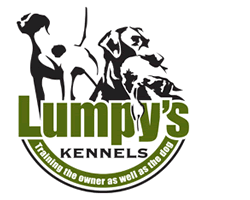 Welcome to Lumpy's Kennels, training and boarding facility, specializing in training hunting dogs, competition dogs, and obedience for companion dogs.
Lumpy's Kennels is owned and operated by Jeff Lemmenes. Jeff has been training dogs professionally, full time, for over 10 years. Lumpy's Kennels trains all types of gun dogs... flushers, retrievers, and pointers, including blood scent trailers and hounds, as well as obedience training for companion dogs.
We train through all Wisconsin seasons - even the winter. Scenting conditions are great and the cover has been groomed to handle the Wisconsin winters. This is a GREAT time to lay the foundation then roll into spring/summer and reinforce the training to have a confident, well trained bird dog come fall.
Services
Gun Dog Puppy
The puppy course gives young dogs a big advantage. It is geared towards bringing out the natural abilities of all breeds. It is most effective when the dog is 4-5 months old. This 2-3 week course is designed to introduce your dog to live game birds, hunting in different types of cover, introduction to gun shots, retrieving birds on land and water, and also learning the routine of the training program.
Gun Dog The gun dog course is designed to produce a well-rounded hunting companion with a strong foundation. Training the handler how to make proper corrections is also part of this course. The goal is to have a dog and handler team that are equally confident in their abilities. This will ensure that their time in the field together will be productive and enjoyable. This course is for dogs 6 months of age and older. The obedience part will be taught first and then transferred to the e-collar, using proper collar conditioning methods. The trained retrieve will be taught next. Pointers will be taught how to handle their birds properly. They will be trained to stand through wing and shot. They will be conditioned to stay at the range you prefer. The flushers and retrievers will be taught the foundation obedience in the same manner. They will be taught to quarter for hunting upland game if desired. They will also be taught to mark. Duration of this training course is 2-3 months.
Finished/Competition
This course is for the Hunt Test/Field Trial competitor or the hunter that wants to take his dog to the next level. Your dog will be taught the finer points of being a highly trained and obedient dog.
Conditioning/Brush-up This course is designed to get your dog in good condition and to brush-up their bird handling skills. This cardio conditioning will have them ready, so when the season arrives they're at the top of their game.
One on One Seminars Seminar training is for the person that wants to run their dog, get training instructions, and then take their dog home and do the homework. It is also for the person that has had their dog trained and wants to keep their skills sharp. Seminars are a great way to get a finished dog ready for competition or that hunting trip.
Obedience/Companion Dog This course is for the non hunting dogs. The course is centered around having an obedient dog that listens to, and performs your desired commands, both in the household setting as well as out in public. It is designed to make your dog a good citizen and family pet.
Click Here For Pricing Information!
Testimonial
BMH puppy from our 2012 litter, only 5.5 months old!
First track, 400yds - "I love this pup!" My dad (in picture) double lung shot this deer with his bow at 7:30am. I showed up about 8:45 and started to track. Great blood for first 250yds then things went crazy. Ground tore up and blood slung everywhere. We worked thru that, and two more just like it, for another 150yds. Finally found him and figured out the coyotes were chasing him and he was trying to fight them off. They had eaten his tail and rear end out already. Russell Sharp from Texas
** Rates subject to change without notice.
---