Good Old Days Resort
W913 West Northshore Drive
Montello, WI 53949
(920) 295-6723
(920) 229-2064 - mobile
Email Us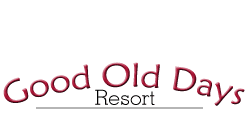 Heated, in ground swimming pool!!
Lake Puckaway...
Puckaway Lake has long been noted for its excellent fishing. It is home to many large Walleye, Northern Pike (Wisconsin State Record), Big Crappies, Perch, Blue Gill, Bass and Catfish.
Recent stocking has added several million Walleye and hundreds of thousands of Perch and Blue Gill, and more recently, Muskies, to insure a bright future for this fine lake.
An added bonus lies in the fact that the Fox River empties into the lake at a point just across from our resort. A 15 minute boat ride will put you in the middle of good fishing for Bass, Walleye and many other species of game fish. Fish freezing facilities available.
Good Old Days is the home of the Montello River Country Bass Masters Annual Frigid Open held in April, and the Two Day, Team Bass Tournament held the third weekend in September also the Montello Lions Club Annual Ice Fisheree the last Saturday in January.
Here at the resort we have playground equipment for the children and a safe, sandy beach area. We also have a well furnished game room.
Accommodations...
Your accommodations at the Good Old Day's Resort are without doubt the finest to be found in the area, however, it is always wise to check out your accommodations before reserving, to avoid any misinterpretations. Our rental, units are clean and well maintained.
Ten roomy duplexes, four on the lake, and four 100 yards off the lake, boast wall to wall carpeting, complete kitchen facilities, full bath with tub and shower, two large bedrooms with sleeping room for six. Color TV, charcoal grills and picnic table on your own private deck are all standard.

A fishing boat is included with your rental fee. Motors and gas are available by day or week.
Our cabins, we have four, are roomy and clean, but not as large as the duplexes or with as many amenities. They have a complete kitchen, a bedroom with a double bed, a small living room with a sofa bed, and a bathroom with shower. Each cabin has a screened porch with picnic table and patio deck.
All of our units are equipped with window air conditioners!
Other Offerings...

Heated, in ground swimming pool
Restaurant & Tavern on Site
Boat & Pontoon Rentals
Groups Welcome
Safe, Sandy Beach
Championship Golf Courses in Nearby Green Lake
Just 45 Miles East of Wisconsin Dells and Casinos
Winter Activities include Ice Fishing, Cross-Country Skiing, Hunting & Snowmobiling
** Rates subject to change without notice.