Elk River Custom Rods
1424 North Lake Ave. (shipping)
P.O. Box #41 (mailing)
Phillips, WI 54555
Email Us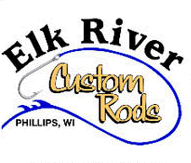 Elk River Custom Rods
- Handcrafted in Phillips, Wisconsin. Your time on the water is golden, and each Elk River Custom Rod is designed to help you enjoy that time to it's fullest. Our rods are a combination of performance and beauty not found on mass produced rods.
Why choose an Elk River Custom Rod - Unlike large rod companies where each rod goes thru factory departments and is worked on by multiple people, our rods are built start to finish, tip to butt, by one of our highly skilled rod builders. Because each rod is built by a single custom builder that takes great pride in their work, we are able to build a level of quality, performance, and beauty in our product not found on even the most expensive factory rods.
Satisfaction Guarantee - If you are not 100% satisfied with your Elk River Custom Rod, return it within 30 days from the purchased date for a full refund (personalized rods excluded).
Rod Features - Each model is carefully designed, balanced, and tested, to be the ultimate fishing rod, and are hand crafted by exacting custom rod builders in our Phillips, WI rod shop.
All rods feature:
GX2 Graphite Blanks - Dual feature graphite is both Light and Sensitive, yet more durable than most higher modulus blanks.
Hi-Alloy Ceramic Guides - Diamond polished for smoothness - safe for all braided lines.
Tru-Kast Guide Systems - Provide the best possible line path, improving cast-to-cast consistancy for maximum casting accuracy.
Grade A Cork Grips
Graphite Reel Seats - for warmth and comfort in all fishing conditions
Iridescent Fish Inlays - All rods have a beautiful fish inlay of the species they are designed for.
Hand Marbled Finishes - stunning beauty, and make each rod a true "One of a Kind"
Elk River Custom Rod Types

Custom Bass Rods - all Largemouth models feature a green-gold-and-black marbleized finish. All spinning rods feature super sensitive Spin-Jig tapers. Casting rods feature versatile Mag-Bass tapers for a blend of power and sensitivity.
Custom Walleye Rods - all walleye rods feature super sensitive spinning and spin-jig tapers, and beautiful Black-Gold-and-Silver hand marbled finishes.
Custom Musky Rods - all Musky rods feature our beautiful Black-Gold-and-Silver hand marbled finish. Our Musky rods also have the best guides on the market - Pac Bay Aero Deep Pressed Ring Guides. These guides are super strong, light weight, and hold up to any braided line. Our rods are also some of the lightest and most sensitive Musky rods on the market. And with the beautiful Musky inlay on the rod, you are guaranteed to see a fish every time out!
Custom Crappie Rods - all Crappie rods feature our beautiful Black-Gold-and-Silver marbled finishes, and super sensitive spinning tapers.
Custom Trout Rods - all Trout rods feature beautiful Black-Gold-and-Silver marbled finishes, and super sensitive spinning tapers.
Elk River Custom Rods Personalization
Your Elk River Custom Rod can be personalized with your own text. You can personalize up to two lines of of text, with a maximum of 35 characters per line.
Make sure to check out Old School Guide Service to get more information about Chris's guiding service in the Price County area.
** Rates subject to change without notice.