Cast N Catch Charters
527 S Oxford Ave
Sturgeon Bay, WI 54235
Email Us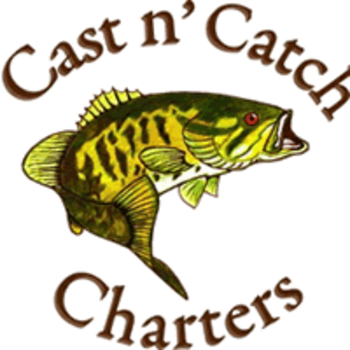 Cast N Catch Charters is a quality Smallmouth Bass Fishing guide service. Cast N Catch Charters is based out of beautiful Door County, Wisconsin. The Peninsula is set between Lake Michigan and Green Bay, consequently this makes for a wonderful place to target trophy Smallmouth bass.
Fishing in the Sturgeon Bay area provides some of the best Smallmouth Bass action in the country! In Fact, Bassmaster.com named Sturgeon Bay the #1 Fishing Destination in America in the 2014 Top 100 Bass Fishing Lakes in America.
Cast N Catch Charters guides daily during the Smallmouth Bass Fishing season. Fishing begins the first Saturday in May for Door County. Washington Island is protected during the Smallmouth Bass spawn, as a result it opens on July 1st.
Door County and Washington Island are Smallmouth Bass Fishing havens were Trophy's swim. Most of all our goal is for you to have a fun and educational guided Door County Fishing Trip. Cast N Catch Charters owner and guide Jimmy Doering is a licensed United States Coast Guide Captain. Captain Jimmy's focuses on safe and fun Door County Charter Fishing. Captain Jimmy is CPR/AED certified. Jimmy is also a Wisconsin licensed Paramedic.
Call 920-535-3474 to book a trip. Come on a Door County fishing charter for the giant Smallmouth Bass that swim from Sturgeon Bay to Washington Island. In conclusion, Come fish with Captain Jimmy this season, to land your own Door County Trophy Smallmouth Bass!
Your Guide
Thanks for choosing Cast N Catch Charters fishing guide service! Exciting fishing action paired with beautiful Door County Wisconsin scenery is what you will enjoy on your professionally guided Wisconsin fishing trip with your United States Coast Guard licensed Captain Jimmy Doering.
Smallmouth bass is the only species Captain Jimmy fishes for and thats your gain! Jimmy stays on the trophy Smallmouth bass bite from May til the ice starts to form in November.
While I have been fishing my whole life, I have been a professional Wisconsin fishing guide for the past 10 years! I founded Cast N Catch Charters in 2012 when I moved to Washington Island, which is located off the tip of the Wisconsin Peninsula. Trips are run off Washington Island July til Novemeber. I spend May and June fishing for Door County's Trophy Smallmouth. I have been fishing Door County since 2008 and have an amazing understanding on the area surrounding the Door Peninsula.
Cast N Catch Charters believes in providing a safe and fun trip. Captain Jimmy is Nationally Registered Paramedic which includes training in first aide and CPR. Captain Jimmy also strives to teach you new techniques and strategies to help you become a better angler.
My leisure and guiding time on the water takes me to some of the best fishing areas throughout Door County Wisconsin.
Some of my favorite areas include:
Sturgeon Bay– Trophy spring small mouths! I guide here during May and June.
Egg Harbor– Guiding for Smallies in the Harbor provides a low pressure smallmouth haven during certain weeks of the year.
Fish Creek– Mid-Door smallmouth are the hidden gem of the peninsula, so many fish and a lot less pressure!
Sister Bay– Northern Door County at its finest! Fishing in sister bay most of June provides spawn and post spawn action!
Rowley's Bay– Shallow water sight fishing along with pre-spawn giant smallies!
Washington Island– The Island offers trophy summer and fall Smallmouth trips. Enjoy a ferry ride thru Deaths Door over to Lake Michigan's Smallmouth paradise off the tip of Door County.
Rates
4 Hours Fishing Trip Rates: Max 3 Anglers
1-2 people - $300 Plus tax 5.5%* (add 1 person $50)
6 Hours Fishing Trip Rates: Max 3 Anglers
1-2 people - $400 Plus tax 5.5%* (add 1 person $50)
8 Hours Fishing Trip Rates: Max 3 Anglers
1-2 people - $500 Plus tax 5.5%* (add 1 person $50)
*Multiple day trips can be arranged with discounts.
*Additional fishing time can be added to each trip. * Rates subject to change.
*Fall trips subject to live bait fee, ranging from $30 to $60
Fishing Trip Information
All fishing rods, reels, assorted tackle, live bait (seasonal) are provided.
Learn new Smallmouth Bass fishing techniques.
All necessary safety gear provided (children under 12 need life vest)
Half and Full Day Trophy Smallmouth Bass trips available
Fully insured and licensed USCG Charter Captain
Door County trips begin the first Saturday of May
Washington Island trips begin July 1st
Washington Island pick up location is at the Ferry Dock.
Things to Bring
Polarized Sunglasses
Waters/Snacks
Wisconsin Fishing License
Rain Gear
Sunscreen
** Rates subject to change without notice.