Bluegrass Kennels
W2107 Hwy. 33
Mayville, WI 53050
Email Us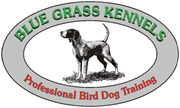 WELCOME TO BLUE GRASS KENNELS
Full time professional dog trainer Tim Mader provides dog training at the top level. Bird Dog Training, Obedience Training, Started Dogs for Sale, Hunt Test Training, and Lessons are just some of the services offered here at Blue Grass Kennels. At Blue Grass Kennels we utilize our 80 acre fenced in facility with three training ponds, and different heights of cover. When the opportunity arises we travel to Canada, South Dakota, North Dakota, Southern Illinois, Iowa, Kansas, and other locations to train your dog on wild birds or to participate in field trials. Blue Grass Kennels offers an annual dove hunt at the beginning of each dove season.
Our goal is to make each one of your hunting experiences enjoyable- the type of hunt which can only be achieved with a refined gun dog. Our results are sure to add years of pleasure with your dog and your hunting career.
Who is Tim Mader?

Full time dog trainer
Manages a very successful hunt club and supervised a professional, full service dog training facility
Twice featured in the Kenosha News by professional outdoor writer Mark E. Kessler-training and teaching talent read by thousands!
Featured in a segment of Outdoor Wisconsin television series with Dan Small while teaching gun dog training basics
Attended Tri-Tronics professional dog training school. Educated in a complete array of dog training philosophies. New and old school techniques applied.
Earned numerous awards and titles for gun dogs trained for many clients (references available upon request)
Services Offered
Full gun dog consultation services
Force breaking - all breeds
Started and finished dogs available

Training for problematic gun dogs
Most complete array of training methods
Professional services at affordable prices

Immaculate kennel facilities
Live birds used in actual field situations
Personal attention provided to every client & dog
Rates

Initial Evaluation- $65 (about 2 hours)
Private Lessons- $65 an hour plus bird fees
Weekly Training-$145 a week plus birds
Kennel Boarding- $15 per day
Inside Boarding- $22 per day
(Birds are at a sliding scale- whatever the bird breeders are charging me is what I am charging you)
** Rates subject to change without notice.